Dynamic Message Signs
InLine's team provides complete DMS design, install, integrate, and maintain services
Dynamic Message Signs (DMS) can be placed in a wide range of places like interstates, major highways and major road intersections, and urban arterials.
Usually installed above the roadway, the DMS uses text and graphics in monochrome or color to provide advanced traveler information. This information helps motorists to make advanced decisions from choosing alternative routes or being prepared to slow or stop to help prevent roadway accidents. This improves roadway efficiency and increases the safety for travelers and pedestrians utilizing multimodal transportation networks.
The versatility of dynamic message signs makes them suitable for providing traffic information for a variety of situations including emergencies, construction and road closures. The DMS can also be used in cities to communicate events and activities, public office schedules, parking availability and travel warnings.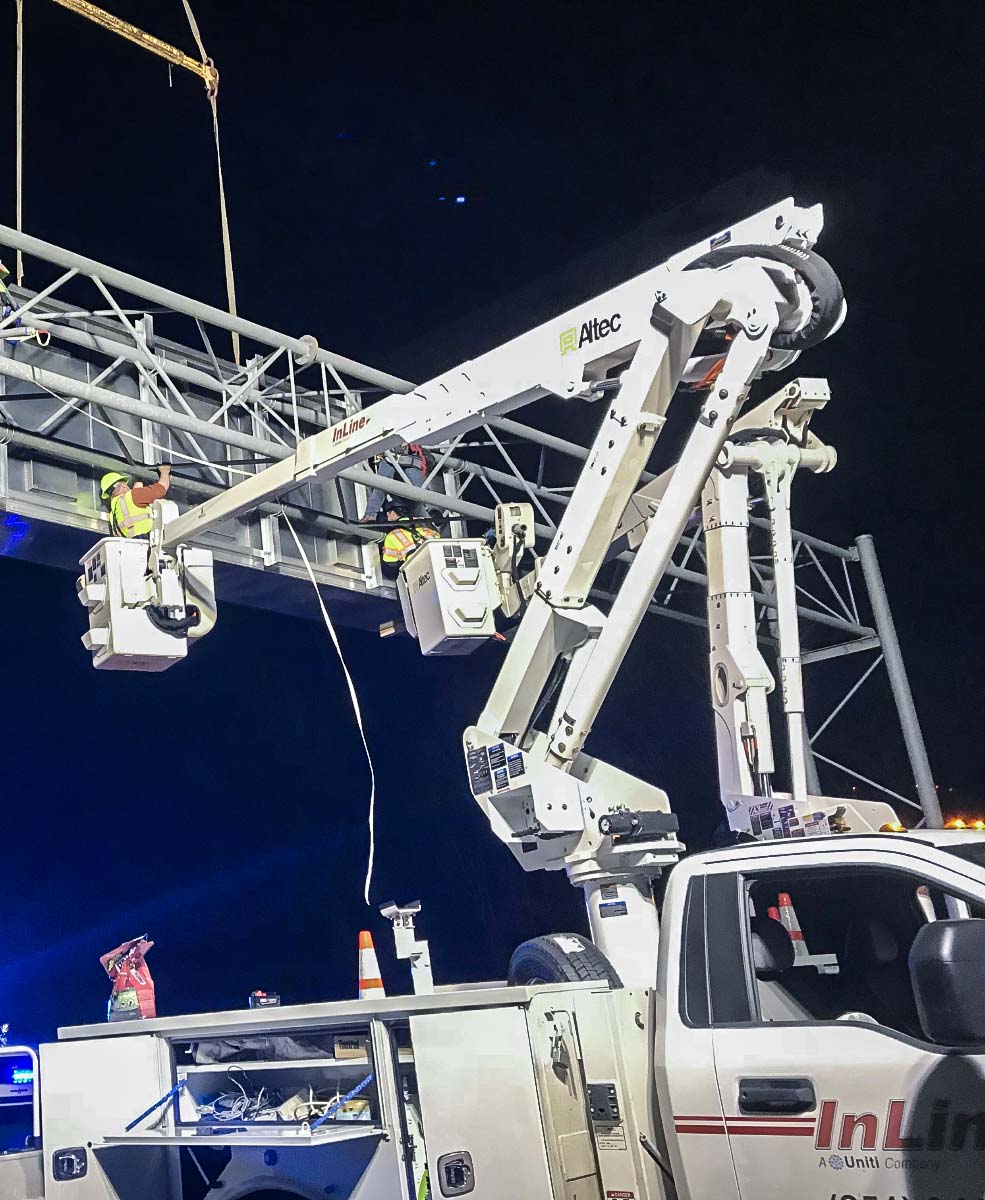 Using long life LED technology that is easily visible in all types of weather and through the use of a photocell sensors, the brightness can be adjusted for both clear day and night viewing.
The display system can operate as a stand-alone system or be integrated with other traffic control and management systems providing data for traffic detection, monitoring, and surveillance.
InLine's team provides complete design, install, integrate, and maintain services providing you with the peace-of-mind of knowing that the same team designing your system will be there for you from inception to long-term operations to ensure a successful ITS program.
Contact our ITS service team today at 888-4InLine (888-446-5463) or Email ATeam@InLine.com, they can walk you through the various options available to you and if there is anything InLine can do to help we'll be happy to come onsite for a full inspection.
Alabama HQ and Offices
Birmingham (Headquarters)
600 Lakeshore Parkway
Birmingham, AL 35209
Theodore - Mobile
5535 Business Parkway
Theodore, AL 36582
Bessemer
909 Industrial Park Circle
Bessemer, AL 35022
Arkansas Office
Little Rock
4411 John Harden Dr
Jacksonville, AR 72076
Mississippi Office
Jackson
193 Business Park Dr, Suite C
Ridgeland, MS 39157
Tennessee Office
Memphis
2650 Thousand Oaks Boulevard
Suite 1340
Memphis, TN 38118